(from nwtreatytribes.org)

Donations to support the Billy Frank Jr statue project can be made via Salmon Defense.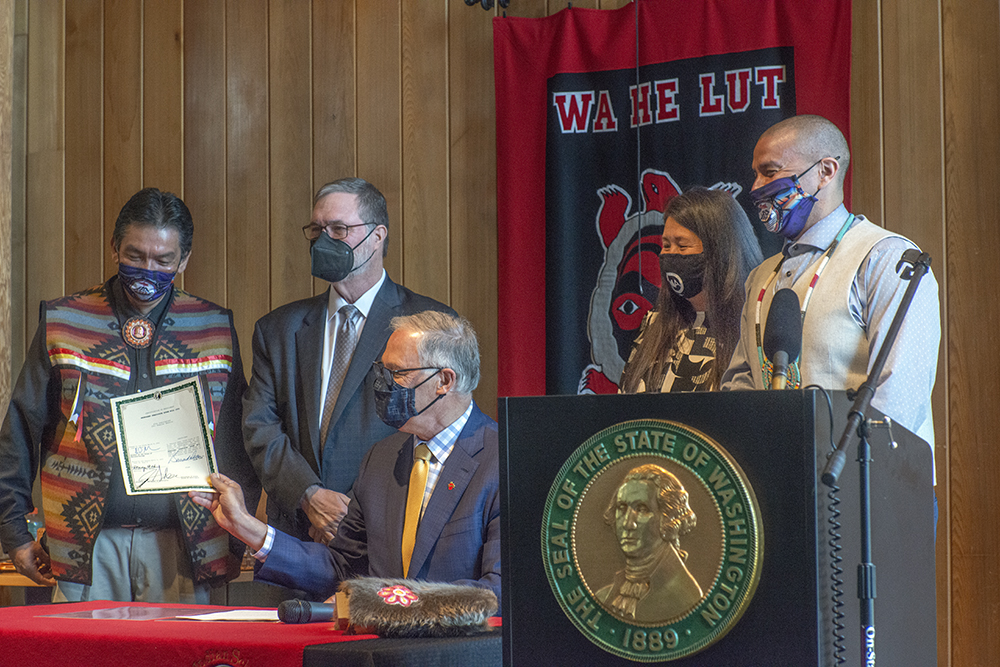 Gov. Jay Inslee today signed legislation to honor Nisqually tribal leader Billy Frank Jr., natural resources and civil rights champion, with a statue in the National Statuary Hall in the U.S. Capitol.
"He was a warrior for the natural world and values we hold so dear in Washington," Inslee said. "He stood up for the law of the United States and represented the best of Washington state. When Billy spoke, people listened. His presence in the National Statuary Hall will keep more people listening for generations to come."
Each state has statues of two prominent citizens in the National Statuary Hall. The legislation sponsored by Rep. Debra Lekanoff, (D-Bow) retires a statue of pioneer Marcus Whitman that has represented Washington since 1953. A statue of Mother Joseph Pariseau, founder of Providence Hospitals, has stood in the hall since 1980 and will remain.
"Billy Frank Jr. has walked every watershed to the east and west of the mountains," Lekanoff said in support of the bill. "He stood in every river and collaborated with local, tribal, state and federal communities to say, 'How do we rise together to protect the values of Washington state? How do we stand together?'
"Billy was a dedicated advocate for equality, justice and environmental protections, and his statue will serve to honor his legacy and as a call to action for all who see it."
Marcus Whitman's statue was chosen to be removed because it has been there the longest of the state's two statues. Whitman's statue will be relocated to an appropriate location in Walla Walla County when it returns to Washington state. A statue of Whitman already has a prominent place in the state Capitol. All costs for the Frank statue will be paid for by private donations.
Frank, who walked on in 2014, was first arrested as a teenager for exercising his constitutionally protected, treaty-reserved fishing rights in defiance of state law that did not recognize those rights and oppressed tribal fishers. He was eventually arrested more than 50 times as the leader of a nonviolent civil rights movement that resulted in the landmark 1974 Boldt decision.
The Boldt decision upheld tribal fishing rights and established the tribes as co-managers of the salmon resource. Frank then turned his efforts to building a spirit of cooperative natural resources co-management that continues today.
A Korean War veteran, Frank received many honors throughout his life yet remained a humble fisherman. Some of the awards he received include the Albert Schweitzer Prize for Humanitarianism, the Martin Luther King Jr. Distinguished Service Award and the Washington State Medal of Merit. In 2015, he was posthumously awarded the Presidential Medal of Freedom – the nation's highest civilian honor – by President Barack Obama.
"It's not a good bill, it's a great bill," said Lt. Gov. Denny Heck. "It's a great bill because Billy Frank was a great man. Every single time any person from Washington visits our nation's Capitol, they will stop, they will look up, and they will stand tall and proud, because Billy Frank was a great man."
Those thoughts were echoed in testimony from Rep. J.T. Wilcox (R-Yelm). "He's a great man, Madam Speaker, because after all that he went through – and I think that it was very, very hard, harder than anyone of us could imagine – he forgave. Madam Speaker, he didn't get bitter. He forgave everybody. He never gave up his struggle, and he moved on to expand it. He didn't have to do that, Madam Speaker. He could have been bitter. His ancestors walked on the ground that my dad and I live on. He didn't covet that. He wanted bigger things, Madam Speaker, and he's been an example to the entire world."
"This is a tremendous honor for the Nisqually Tribe and our family," said Willie Frank III, Frank's son, who serves on the Nisqually Tribal Council. "Sharing his story will be vital to the future of all our tribes and continuing to bring us all here in the state of Washington together in our commitment to bring our salmon home for future generations."
"Given the unrest and animosity that our country has experienced in the past few years, it is time that we recognize a peacemaker who worked to make Washington a better place for all of us and the shared natural resources on which we depend," said Lorraine Loomis, chair of the Northwest Indian Fisheries Commission.
Washington Gov. Jay Inslee holds up the signed bill that authorizes a statue of Billy Frank Jr. to be installed as one of two statues that represent the state in Statuary Hall in the U.S. Capitol Building where thousands of people a year will see it and know Billy's story and ways to learn more about him and the tribes of the state. From left, Nisqually Chairman Ken Choke, Lt. Governor Denny Heck, Rep. Debra Lekanoff and Willie Frank III, son of Billy Frank Jr. and Nisqually tribal councilman. The signing was held at Wa He Lut Indian School at Frank's Landing, where Billy Frank Jr. spent many years with his parents and was arrested many times during the Fish Wars. As an advocate for education, Billy was also instrumental in making the school a reality. One of his canoes, confiscated for a period of time by the state, hangs in the school.
A video of the highlights from the bill signing ceremony: